Ch. Wynstream Royal Stewart, 'Flynn'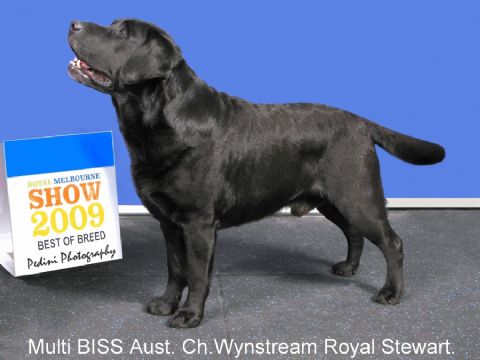 FLYNN IS A MULTI BISS, MULTI ROYAL BOB WINNER.
HIS WINS HAVE BEEN UNDER INTERNATIONAL BREEDER/JUDGES AND ALL BREEDS JUDGES WORLD WIDE.
Flynn is a substantial dog, who exhibits the essential characteristics of the breed, head, coat, tail and temperament.

Flynn finished his title with BEST IN SHOW at the Labrador Retriever Show of Victoria, June 2006.
"A True Labrador, dog of quality, lovely outline, beautiful head and expression, well angulated, good coat, good compact body and bone, moved very well"
Mrs. Ewa Nielsen, 'Dream Max' (Sweden)
Labrador Speciality in Adelaide, May 2006, Flynn was RDCC.
"A black of excellent breed type, good neck, well developed ribcage, good forechest, correct double coat"
Ms. Kirsi Loumonen, 'Tweedledum Labradors' (Finland)
Melbourne Royal Show DCC RUBOB.
Mr. Edgar Bajona, (Canada)

South Australian Labrador Speciality, Flynn wins Dog CC and RUNNER UP BEST IN SHOW.
"Good breed type, lovely head, clean neck, good front and rear. Good size body and good topline"
World renowned Labrador Breeder/Judge Kendall Herr of the famous Dickendall Labradors (USA).
Flynn wins yet another Labrador Retriever Speciality, May 31st, 2009
BEST IN SHOW, BEST OPEN IN SHOW, DCC
Mrs Margaret Brown, 'Ramsayville Labradors' (UK)
Melbourne Royal Show, 2009
Flynn wins another Interstate Best of Breed
Mr. Luis Pinto Teixeira, (Portugal)
Although shown infrequently Specialised Breeder/Judges and International All Breed Judges reconise the breed qualities of this lovely dog.

PRA. Optigen B. Hip 3-4 Elbows 0-0 EIC Clear.